The aim of the Professional staff at NSW Golf Club is to help our members and guests enjoy the wonderful game of golf and play to their full potential. New South Wales is consistently ranked one of the top 50 courses of the world and the Pro shop reflects the standards of this great Club.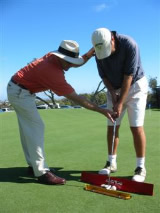 Our Pro Shop staff are highly experienced in all aspects of the game and can assist with lesson programs on our full driving range facility or with on-course instruction. We offer a full club fitting service, using Titleist, Callaway and Ping fitting carts, on all brands to make sure every golfer is using the correct equipment. We offer a free post-purchase check on all fitted sets and a personal guarantee of satisfaction.
Golf lesson programs include:
Present Skill Assessment and Video Analysis
Goal Setting
Clubfit Check and Equipment Assessment
Weekly Range Lessons and On Course Lessons
Game Management
Practice Program and Drills
Skill Tests to Monitor Improvement
Rates
Half Hour - $60
One Hour - $120
Lesson Packages
6 x Half hour lessons - $300
6 x One hour lessons - $550
Playing Lessons
2 1/2 hrs - $285
Group Lessons And Clinics By Arrangement
Private Golf Improvement Courses - with:

Bill Exten
P.G.A. AAA Head Professional
Bill started playing at the age of 9 in country Queensland and completed his PGA Traineeship at Rockhampton GC. After 2 years as Professional at the Roma GC in QLD, he played on the Australian tour and settled in Sydney. In 1979 he became Head Professional at Oatlands GC and, after 16 years there, moved to New South Wales Golf Club in 1995. Over a 30 yr + career Bill has written articles on Golf fitness, Golf instruction and club fitting. "My view on the golf swing is that it should be a natural rotation built around that players particular build". Bill is a foundation member and board member of Performance Golf, a leading golf industry group. Bill lives in Chifley with wife Linda and children, Stephanie and Andrew.
Adrian Hoyle
P.G.A. AA Assistant Professional
Adrian has been teaching at New South Wales Golf Club since 2004 and is a accredited golf instructor with the PGA of Australia. Adrian has a logical, step-by-step approach to helping you build a repeatable golf swing, with an emphasis on good posture and how to use the body correctly and efficiently in the golf swing.

Adrian has degrees in Visual Design, Sports Management and Golf Management, as well as a Certificate III in Sport and a Diploma in Sport Coaching. Adrian uses the latest video technology to analyse your golf swing with High Definition video at 60 frames per second. Available for full swing, short game, on-course and putting lessons at New South Wales Golf Club.
________________________________________________________________________________
Professional Shop Staff:
Piers Lloyd
AA PGA Member of Australia
Piers Lloyd grew up in Sydney. He travelled the world playing golf before returning to Australia to turn Professional; he was coached by some of Australia's leading Professionals. From an early age, he always showed an interest in sports, Piers comes from a strong sporting background although his true passion lies in golf. Piers played Professionally throughout Australia for 3 years in pursuit of his full membership of the PGA of Australia; which he completed in early 2010. He has worked in the golf industry for over 10 years, gaining invaluable knowledge in some of Sydney's busiest and most popular courses. Piers is married with two children and currently lives in Lilyfield.
Mitchell Donlan
PGA Trainee Professional
---
Contact
All Golf Bookings, phone Office directly
Phone: 02 9661 4455

Head Professional Bill Exten P.G.A.
Phone: 02 9311 2573
Fax: 02 9311 2368
E-Mail: willex@bigpond.com.au
Opening Hours
| | | |
| --- | --- | --- |
| Winter | Open | Close |
| Monday, Tuesday and Thursday | 7:30am | 6:00pm |
| Wednesday and Friday | 6:45am | 6:00pm |
| Saturday | 6:15am | 6:00pm |
| Sunday | 6:30am | 6:00pm |
| | | |
| --- | --- | --- |
| Summer | Open | Close |
| Monday, Tuesday and Thursday | 7:30am | 7:00pm |
| Wednesday and Friday | 6:45am | 7:00pm |
| Saturday | 6:15am | 7:00pm |
| Sunday | 6:30am | 7:00pm |