Ordinary Membership
The process of joining NSW Golf Club requires applicants to have two members to propose and second their application. Once the application form is lodged with the Club's office, it is placed on the waitlist. All future correspondence will be sent to the applicant's proposer.
The proposing member can collect application forms from the office.
Please contact the Club's office for all membership enquiries - either on 02 9661 4455, or by clicking here to e-mail us.
---
Corporate Membership
The Platinum Corporate membership is a tailored membership, providing features specific to corporate representatives.
The Platinum Corporate membership provides the candidate with all of the privileges of a full playing member (except voting rights) for a period of five years.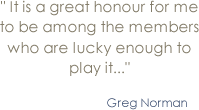 To review the features of the
Platinum Corporate membership,
please download the current brochure.